No matter how you try to slice it, Sales and Marketing are not the same thing. They're two distinct parts of your business that need to function well in order for your business to see growth and success. While they are separate, however, they are not completely independent. They must work together. If they don't, chances are your business won't see success and growth. Our CEO, Kade Wilcox, shares some thoughts on the Integration of Sales and Marketing.
Historically, many organizations made a habit of separating their sales from their marketing teams. It looked a bit different for each organization, but typically sales and business development teams were in their own silo and marketing was off in their own silo. But more recently, there has been a shift from these silos into fully integrated sales and marketing teams, or smarketing teams. The reality is that the sales process is changing because of the way consumers look for businesses to meet their needs. This shift has now created a bridge between the two departments. Inbound Marketing is uniquely positioned to help that transition happen even faster. Here are a few ways that an organization can make a smooth transition to Inbound Marketing.

Commit to Inbound Marketing
Marketing has evolved and is evolving at breakneck speeds. Gone are the days when billboards, radio, TV spots, and newspaper ads were the only ways to generate brand awareness. Inbound Marketing is all about engaging the customer and adding value to them as they go through the buyer's journey. Due to opposition of the disruptive marketing of the past, brands now have to start gaining trust from their audience by giving them the opportunity to opt into their marketing. Brands that embrace the Inbound Marketing mentality will be the first to create that trust. Inbound Marketing also creates the perfect environment for sales because it seeks to educate, inform, connect, and engage the customer. This qualifies leads in a way that significantly improves the chances of a sales team converting them into a closed lead.

Commit to Using Data
One of the biggest frustrations with traditional marketing is not being able to strategically measure the impact of your dollars spent. Measuring traditional marketing is nearly (if not entirely) impossible and tends to be very expensive. Every tool in the Inbound Marketing tool chest can be measured in some way. This data provides both the marketing and sales teams unique vantage points about the customer along different paths of the buyer's journey. Instead of playing a guessing game, both teams can leverage data to create their messaging and strategy and close leads.
Commit to Software
Many organizations are still not taking advantage of all the incredible tools there are to help teams collaborate and work together. Committing to a marketing automation software (like HubSpot, Marketo, or Pardot) and a CRM (like HubSpot, Insightly, or Salesforce) can help improve communication and collaboration between teams significantly.
Commit to Meeting Regularly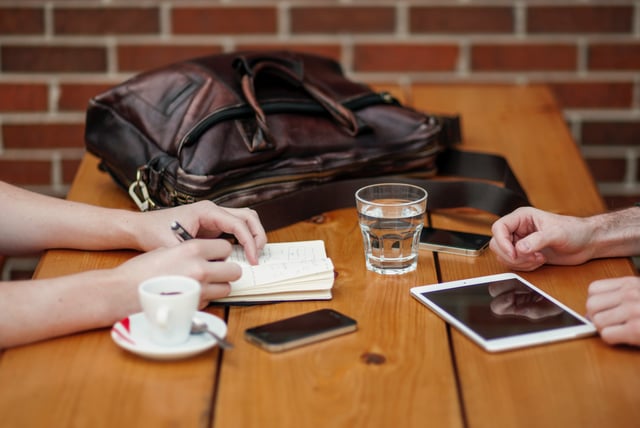 The sales and marketing teams should meet often and regularly. The more they interact, the more that both teams (and your company) will win. The sales team has unique access to customers. They can share with the marketing team the pain points of the customer and a wealth of information that can drive the messaging and strategy of the marketing team. The marketing team can communicate to the sales team the prospects they are generating, what the data says about website traffic, social engagement, and anything related to generating qualified leads. Tremendous results will come from the two teams being tightly aligned, and not just loosely connected because they work at the same organization.
Commit to Building Goals Together
Often times one team will have their goals and the other team will have theirs, with no real effort to cross pollinate. This is a terrible environment for the organization because you have two major teams working in opposite directions. By simply collaborating on each team's goals, sales and marketing can have an increased opportunity for synergy and therefore shared success for the entire company.

Sales and marketing teams are unique, distinct groups within an organization. However, these groups must be tightly aligned in order to generate leads and turn them into customers. Inbound Marketing solidifies this connection and strengthens the partnership between them. The result is something the entire company will appreciate.

Want to start the process of aligning your sales and marketing teams? Click the image below to download our free ebook to get you started.